Cloud Computing: A Comprehensive Guide
Introduction
In the digital era, the term "cloud computing" has become increasingly prevalent, revolutionizing the way businesses and individuals manage their data, applications, and infrastructure. This groundbreaking technology has permeated nearly every facet of our lives, from storing family photos to powering global enterprises. In this article, we'll delve deep into the world of cloud computing, exploring its core concepts, benefits, and various use cases.
Understanding Cloud Computing
Cloud computing is a technology paradigm that entails delivering a wide range of computing services over the internet. These services encompass everything from storage and servers to databases, networking, analytics, and more. Instead of owning and managing physical hardware or software, individuals and organizations can access and utilize these resources as needed, paying only for what they use – much like paying for utilities. A good example of this is the Amazon AWS.
Core Components of Cloud Computing
Infrastructure as a Service (IaaS): IaaS offers virtualized computing resources over the internet. Users can rent virtual machines, storage, and networking components, enabling greater flexibility and scalability. Learn more about IaaS here.
Platform as a Service (PaaS): PaaS provides a platform and environment for developers to build, deploy, and manage applications without the complexities of infrastructure management. Explore PaaS solutions.
Software as a Service (SaaS): SaaS delivers ready-to-use software applications via the cloud, eliminating the need for installation or maintenance. Discover popular SaaS applications.
Benefits of Cloud Computing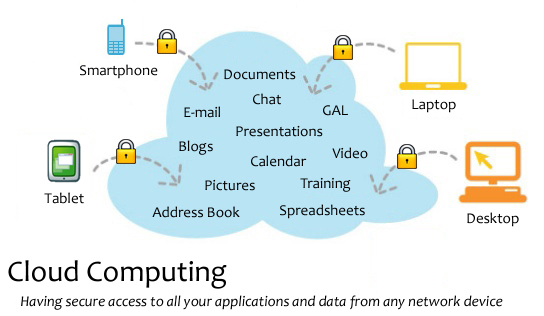 a. Cost-Efficiency: Cloud computing minimizes upfront capital expenses associated with hardware and software, allowing businesses to pay for services on a consumption basis.
b. Scalability: Cloud resources can be easily scaled up or down to accommodate changing workloads, ensuring optimal performance.
c. Flexibility: The cloud enables remote access to data and applications from anywhere with an internet connection, promoting remote work and collaboration.
d. Security: Reputable cloud providers invest heavily in security measures to protect data, often exceeding the capabilities of on-premises solutions.
e. Reliability: Cloud providers guarantee high availability and reliability through redundant infrastructure and failover mechanisms.
Use Cases of Cloud Computing
Data Backup and Recovery: Cloud storage services like Amazon S3 or Google Cloud Storage provide a secure and scalable solution for data backup, ensuring data resilience against disasters.
Web Hosting: Hosting websites and web applications in the cloud allows businesses to scale their online presence quickly. Learn more about web hosting in the cloud.
Big Data Analytics: Cloud platforms offer robust data analytics tools, such as AWS Redshift and Google BigQuery, enabling organizations to process and analyze massive datasets efficiently.
Development and Testing: Developers can use cloud resources to create and test applications without the need for dedicated infrastructure, reducing development time and costs.
Internet of Things (IoT): Cloud computing supports IoT by providing a centralized platform for collecting, processing, and analyzing data from IoT devices. Explore IoT solutions on AWS.
Conclusion
Cloud computing is not merely a buzzword; it's a transformative technology that has revolutionized how we work and interact with technology. Its scalability, flexibility, and cost-efficiency have made it indispensable for businesses of all sizes. By understanding its core components, benefits, and various use cases, you can harness the power of the cloud to drive innovation and growth.
As the field of cloud computing continually evolves, staying updated is essential. For the latest trends and insights, explore resources from reputable cloud service providers and industry experts. Harness the full potential of cloud computing to elevate your personal and business endeavors to new heights.
For the latest cloud computing trends, visit CloudTech.
Stay informed about cloud security at Cloud Security Alliance.
Explore real-world cloud success stories at Forbes.
Remember, the cloud is more than just technology; it's a gateway to innovation and efficiency in the digital age.